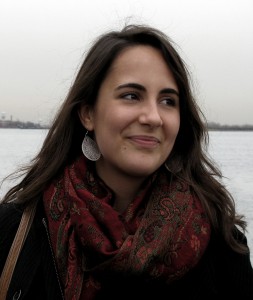 Email address:
lena.groeger@propublica.org
Twitter handle:
@lenagroeger
Website:
http://lenagroeger.com
I am currently a Professional journalist or technologist working in media
Company:
ProPublica
Job Title:
News Apps Developer
Bio:
Lena Groeger is a news applications developer at ProPublica, where she makes interactive graphics and data visualizations. She also teaches a design course at the CUNY Graduate School of Journalism.
Before joining ProPublica in 2011, Lena wrote for Scientific American and Wired on a variety of topics in science and health. She has a graduate degree from NYU's Science Journalism Program, and is particularly excited about the intersection of cognitive science and design, as well as creating graphics and news apps in the public interest.
Affiliations:
National Association of Hispanic Journalists
Areas of expertise:
Front-end coding, Full stack web development, Basic HTML/CSS, Ruby, Experience building interactive charts and graphics, Experience building interactive news applications, Web production experience, Data analysis – Beginner level, Data analysis (statistics, etc.) – R, Strata, SPSS or similar, Git / version control, Other
Other areas of expertise:
Graphic Design, Interaction Design, Data Visualization, UX, D3, Rails
Speaking Experience
Yes, have led sessions individually, Yes, have spoken on panels, Yes, have taught skills-based or hands-on training sessions (at events)
Past Speaking Experience:
Think Small – OpenVis, 2014 (talk)
Insight 2 Action – Data Visualization NYC, 2014 (talk)
DataViz for Everyone: A Practical Guide to Going Responsive – NICAR, 2014 (panel)
A Few of My Favorite Wee Things – NICAR, 2014 (talk)
From CAR to News Apps and Back Again – NICAR, 2013 (panel)
Making Timelines – NICAR, 2013 (hands-on training)
Telling Visual Stories with Data: A Guided Tour of Data Visualization – ScienceOnline 2013 (talk)
Science Journalists of the Future – World Conference of Science Journalists, 2013 (talk & panel)
Coding for the Future: The Rise of Hacker Journalism – West Virigina University, 2013 (talk & panel)
Data Journalism: Talking the Talk – ScienceOnline 2012 (hands-on workshop)
City / Location Preferences:
I'm in New York, but willing to travel elsewhere.