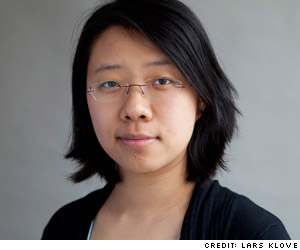 Email address:
me@sisiwei.com
Twitter handle:
@sisiwei
Website:
http://sisiwei.com
I am currently a Professional journalist or technologist working in media
Company:
ProPublica
Job Title:
News Applications Developer
Bio:
Sisi Wei is a journalist, designer and developer at ProPublica, where she creates news applications and graphics that serve the public interest. Previously, Sisi was a graphics editor at the Washington Post. She is also the co-founder of Code with me, a high-impact workshop focused on teaching journalists how to code.
Affiliations:
Asian American Journalists Association, Other IRE, ONA
Areas of expertise:
Front-end coding, Full stack web development, Basic HTML/CSS, Python, Ruby, Experience building interactive charts and graphics, Experience building interactive news applications, Data analysis – Beginner level, Data analysis (statistics, etc.) – R, Strata, SPSS or similar, Git / version control, Other
Other areas of expertise:
Rails, Data Visualization
Speaking Experience
Yes, I have been a keynote speaker for an event, Yes, have led sessions individually, Yes, have spoken on panels, Yes, have taught skills-based or hands-on training sessions (at events), Yes, have taught skills-based or hands-on training sessions (in newsroom)
Past Speaking Experience:
== Conferences ==
"Game On: Designing Playful Interactives to Educate and Inspire", ONA 2014
"Running through the Zombie Apocalypse", MIT Civic Media 2014
"Surveillance by Media: Ethical Bounds of Tools for Watching, Scraping and Sensing", University of Wisconsin-Madison Center for Journalism Ethics 2014
"Disruption, Data & Innovation Panel", Conversations in Journalism 2014
"Make your own interactive, Choose-Your-Own-Adventure Newsgame in 50 minutes", NICAR 2014
"Career Roundtable", NICAR 2014
"Jobs and Career Straight-Talk: For (and By) Young'uns", NICAR 2014
"Data Visualization as Fact Checking", (Keynote) Nordic Data Journalism Conference 2013
"Coding Workshop: Beginning HTML & CSS for Journalists", AAJA 2013
"You'll Fall in Love with Data or Your Money Back", AAJA 2013
"From Idea To Execution: How Every Journalist Can Tell Intriguing Data-Driven Stories", AAJA 2013
"Let's Make Games for News", NICAR 2013
"(Way) Beyond Charts: Making Interactive Fun", NICAR 2013
"Data: Practical Tips from the Field", Journalism Interactive 2013
== Lectures/Workshops ==
Ball State University Professionals in Residence Lecture – "How coding and interactive story development has become a critical skill for journalists", 2014
Data Journalism MOOC, 2013
Code with me Workshops (Portland, Austin, DC, Miami), 2012-2014
City / Location Preferences:
Open to speaking invitations, pending availability.