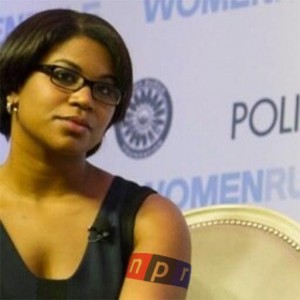 Email address:
juana.summers@gmail.com
Twitter handle:
@jmsummers
Website:
http://juanasummers.com
I am currently a Professional journalist or technologist working in media
Company:
National Public Radio
Job Title:
Reporter
Bio:
Juana Summers is a reporter covering education for NPR based in Washington D.C.. She is also a regular guest host for "Washington Journal," C-SPAN's flagship public affairs program.
Prior to joining NPR, Summers covered defense policy and veterans affairs for POLITICO. During the 2012 presidential campaign, Summers spent two years as a campaign embed covering the Republican presidential primary and the Romney-Ryan campaign during the 2012 election. Her work has previously appeared in The Washington Post, the Austin American-Statesman, the Kansas City Star and the St. Louis Post-Dispatch.
Summers served one term on the board of directors for the Online News Association, and currently serves on the communications committee for the Mizzou Alumni Association. A Kansas City, Missouri native, she is a graduate of the Missouri School of Journalism.
Affiliations:
Other Education Writers Association, Online News Association
Areas of expertise:
Basic HTML/CSS, Web production experience, Social media branding – Newsroom / organization level, Social media branding – Sub-branded accounts (such as a Politics Blog or Regional Channel), Mobile Video (shooting, editing, publishing), Beat reporter
Speaking Experience
Yes, I have been a keynote speaker for an event, Yes, have led sessions individually, Yes, have spoken on panels
Past Speaking Experience:
Keynote Speaker, Washington Press Club Foundation Luncheon 2014, Washington D.C.
National Association of Black Journalists Media Institute on Political Reporting, 2013, Washington D.C.
Beat Reporting in the Digital Age, Online News Association Conference 2012, San Francisco
City / Location Preferences:
I currently live in DC but am flexible/willing to travel to participate in industry events or speak at conferences.