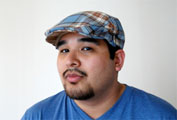 Email address:
joe.ruiz@gmail.com
Twitter handle:
@joeruiz
I am currently a Professional journalist or technologist working in media
Company:
KSHB.com | The E.W. Scripps Company
Job Title:
Executive Producer for New Media
Affiliations:
National Association of Hispanic Journalists, Other Online News Association
Areas of expertise:
Basic HTML/CSS, Web production experience, Social media branding – Newsroom / organization level, Social media branding – Individual, Social media branding – Sub-branded accounts (such as a Politics Blog or Regional Channel), Mobile Video (shooting, editing, publishing), Still photography, Data analysis – Beginner level, Beat reporter, Other
Speaking Experience
Yes, have led sessions individually, Yes, have spoken on panels, Yes, have taught skills-based or hands-on training sessions (at events), Yes, have taught skills-based or hands-on training sessions (in newsroom)
Past Speaking Experience:
Multiple sessions on social media, web producing, multimedia production at multiple NAHJ conferences.
Co-organizer of new media track at multiple NAHJ conferences.
Guest instructor, live online video | Knight Digital Media Center, UC-Berkeley Graduate School of Journalism
Live streaming | 2009 Online News Association conference
City / Location Preferences:
If it's on the map, I'll consider it.